Buah Merah and Papuan People (4)
  Buah Merah and Papuan People (4)
Mathelda Kurniaty Roreng, S.TP, M.Sci1 and Toshiaki Nishigaki, Ph.D2
1)    Head, Agricultural Technology Laboratory
Faculty of Agriculture and Agricultural Technology, University of Papua, Indonesia
2)    Consultant, M&K Laboratories Inc., Japan
Special Researcher, Department of Pathology, Faculty of Medicine, Shinshu University, Japan

Significant value of Buah Merah
Nutrition Values of Buah Merah
There are documentations and published books on nutritional analyses of Buah Merah extract in Indonesia.
We had questions on those data and could not trust them.
Complete analyses of high quality Buah Merah oil were conducted at reputable laboratories in Japan, outsourced by M&K Laboratories Inc.
The quantitative analysis method of carotenoids in Buah Merah oil has been developed and analyzed by co-working team of Faculty of Pharmacy, Nagasaki University, headed by former vice-president of the University, Prof. Dr. K. Nakashima (he is now Professor of Nagasaki International University).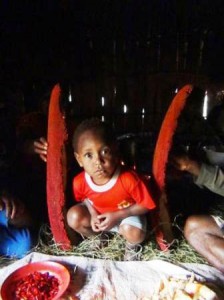 Dinner with Buah Merah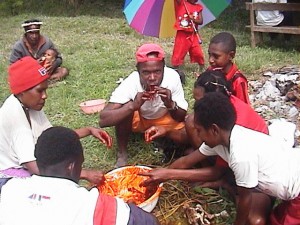 Enjoying Bakar Batur dish with Buah Merah source
From these results, Buah Merah oil is rich in carotenoids, lipids and vitamin E. All are lipids and lipid soluble ingredients.
The contents of proteins, carbohydrates and minerals are scanty. Total carotenoid level is more than 200mg/100g.
Vitamin E is about 20mg/100g that is the highest among oils extracted from any other fruit meats.
It was found that Buah Merah oil contains 4 types of carotenoids; alfa-carotene, beta-carotene, alfa-cryptoxanthin and beta-cryptoxanthin. Among them, beta-cryptoxanthin level is the highest.
This is the first evidence that Buah Merah contains alfa-cryptoxantin and beta-cryptoxanthin.
Fatty acid analyses of Buah Merah oil disclosed that fatty acid constituents resemble to those of animal fats and no trans-fatty acids are not found (9).
Thus, Buah Merah is good sources of pro-vitamin A carotenoids, vitamin E and lipids  which can be comparable to animal fats because of similar fatty acid compositions.
The lipids of Buah Merah oil may enhance absorption of carotenoids from the guts without additional ingestion of oil.
Buah Merah oil can be extracted from oil droplets of cellular matrix without use of any synthetic chemical and at low temperature.
We recognize Buah Merah oil as purely natural food comparable with fruit itself.
Buah Merah oil is a unique, natural food to provide 4 kinds of carotenoids and fruit oil.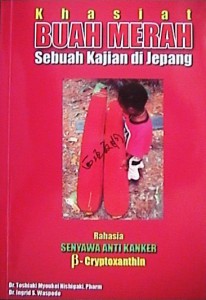 Book on Buah Merah, Indonesian version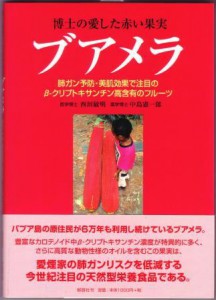 Book on Buah Merah, Japanese version
Buah Merah 500VE is typical Buah Merah oil capsule product launched in Japan.

As of now, Buah Merah 500 /500VE capsule products have not been available
in any other country except Japan.
We are willing to send Buah Merah 500VE on request of readers from any country.
It is said that you can purchase food supplements for your self consumption without permission of authority.
Quick Get Buah Merah 500VE in Japan
Three (3) bottles of Buah Merah 500VE are ready to send you by EMS.
The price including EMS charge is USD 180.
Remittance cost is considered to be minimal.
Buah Merah 500VE is good for
fanatic smokers, patients with cancers, DM, post-menopausal oesteoporosis,
acne, boldness, malnutrition and other serious diseases,
and for enhance of your health, longevity.
Please contact, Dr. M. Nishigaki, 
buahmerah@po.mcci.or.jp